VCU Military Student Services 9/11 Commemoration
8:30 a.m. - 1 p.m. Sept. 09, 2022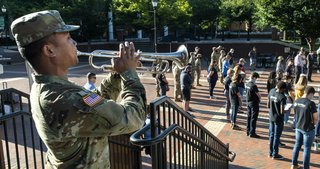 VCU Military Student Services and VCU Student Veterans Association invite alumni to return to campus for a special commemoration ceremony in recognition of the lives lost on Sept. 11, 2001.
8:35 a.m.: Welcome address
8:36 a.m.: Wreath laying ceremony by VCU Military Student Services, VCU Student Veterans Association and VFW Post 6364 in front of Harris Hall with a performance of The Star-Spangled Banner
8:38 a.m.: Remarks from event leadership.
8:46 a.m.: Moment of silence to acknowledge when Flight 11 hit the North Tower of the World Trade Center
8:46 a.m.-1 p.m. (or earlier): All attendees are invited to honor those lost on 9/11/2001 and since in the War on Terror by walking laps with a weighted rucksack, also known as "rucking," in the Ram Horns Plaza to simulate scaling the Twin Towers stairs like so many brave men and women did 21 years ago. "Ruck" a lap in honor of a loved one who served in the U.S. military and sign their name on the commemoration board. Push-ups will also be done in honor of each life lost.
For more information, contact VCU Military Student Services at militaryserv@vcu.edu or (804) 828-6563.
Location
The Ram Horns Plaza, VCU Student Commons, 907 Floyd Ave., Richmond, VA 23220
Contact
Larry Powell
wlpowell@vcu.edu
(804) 828-8194