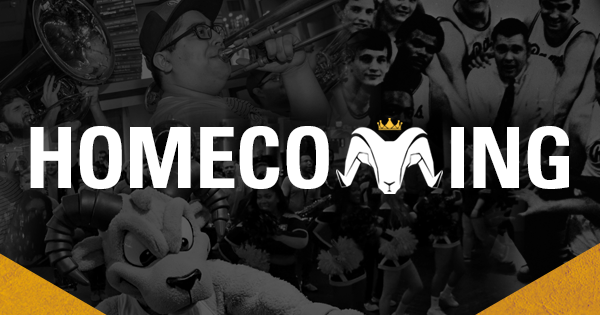 VCU Alumni Homecoming: Feb. 11-18, 2023
Return to campus in February for a Homecoming filled with special opportunities to reconnect with VCU, Richmond and classmates.
Reading with Rodney
10 a.m.-noon Saturday, Feb. 11┃North Courthouse Library, 325 Courthouse Road
Bring the whole family for a visit with Rodney the Ram and alumna Jessica Parham (B.S.'11/H&S), author of "Good to Be Me." Enjoy children's activities and snacks, have your picture taken with Rodney, and spend reading time with fellow alumni and their families.
Painting Floyd and Franklin
1-4 p.m. Tuesday, Feb. 14┃Meet on Floyd Avenue between the Student Commons and Cabell Library
Make your mark at Homecoming and paint a VCU logo on campus. Students and alumni will join together to stencil VCU logos on Floyd Avenue and West Franklin Street. Coffee and hot chocolate provided. No painting experience required.
Online Bingo hosted by Students Today Alumni Tomorrow
7-8:30 p.m. Wednesday, Feb. 15┃Via Zoom
Test your Rams trivia and pop culture knowledge at a special Homecoming bingo. Prizes will be awarded to the winner of each game and all attendees will be automatically entered to win a prize. This online event is open to all students and alumni and is hosted by Spencer Vincent (B.I.S.'20/UC), former STAT member and VCU Homecoming king and member of the Eta Xi Chapter of Kappa Alpha Psi Fraternity.
Alumni Night Out
8 p.m. Friday, Feb. 17┃The Park RVA, 1407 Cummings Drive
Welcome home, Rams! Kick off Homecoming Weekend at one of Richmond's newest nightlife spots, The Park RVA, and reconnect with friends. Enjoy duckpin bowling, mini golf and more. Get Homecoming started right.
Emerging Leaders Program and VCU LEAD Reunions
11:30 a.m.-1:30 p.m. Saturday, Feb. 18┃West Grace North Residence Hall, 830 W. Grace St.
The Emerging Leaders Program invites program alumni to campus, and back to VCU Transform, to celebrate ELP friendships and to learn what ELP has been up to for the past 16 years. Lunch provided. RSVP required. Register online or email Rebecca Halligan at rshalligan@vcu.edu for more information.
Golden Alumni Get-together
Noon-2 p.m. Saturday, Feb. 18┃SHIFT Retail Lab, 1235 W. Broad St.
Join fellow Golden Alumni from the Class of 1973 and earlier or age 70+ for a get-together prior to the men's basketball game. Afterward, walk across the street to the Siegel Center as VCU takes on Fordham. To attend the game, you must purchase a reduced game ticket. The get-together is complementary and offers beverages and snacks but registration is required.
All-alumni Block Party
12:30-2 p.m. Saturday, Feb. 18┃Harrison Street between Marshall and Broad streets
Get game-time ready at the Homecoming tailgate and fan zone. VCU Alumni and VCU Athletics have teamed up to bring you the Homecoming fan zone, presented by American Campus Communities. Enjoy games, music, food trucks, swag and more before the men's basketball team takes on Fordham at 2:30 p.m. All ages welcome! You can find us on Harrison Street between Marshall and Broad streets. The first 300 registered alumni to come to the alumni tent, inside the fan zone, receive an limited-edition Ram head foam hat. RSVP to reserve yours today.
Homecoming basketball game tickets
Discounted game-day tickets are available for alumni to purchase.
6 p.m. Feb. 15: Women's basketball vs. Dayton
2:30 p.m. Feb. 18: Men's basketball vs. Fordham
Homecoming questions? Contact Savannah Hazelwood, signature events coordinator, at hazelwoods@vcu.edu.
VCU Alumni Homecoming is proudly presented by: