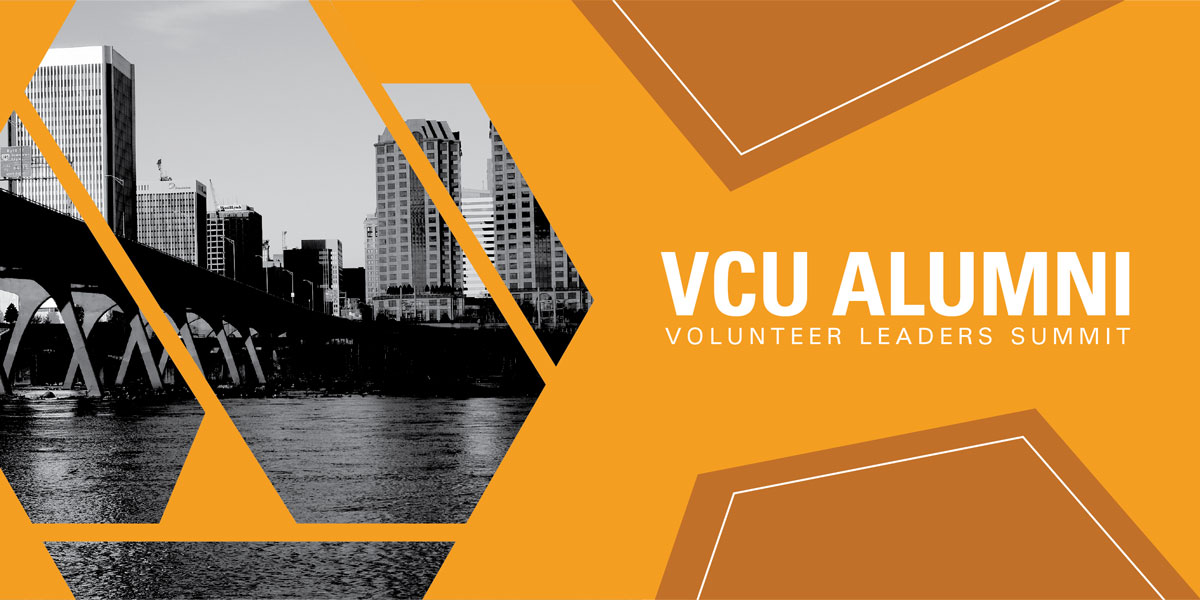 Volunteer Leaders Summit
This year's Volunteer Leaders Summit, Nov. 7-9, is held during VCU Homecoming. Join other VCU alumni leaders for a full weekend of personal and professional development to build on last year's tremendous success.
$35 registration includes:
Two days of personal and professional development (Nov. 8-9)

Admission to Homecoming pregame event (Nov. 8)

VCU gear

And more!
Scholarships
Thank you to everyone who submitted a scholarship application to this year's VLS. Applications are no longer being accepted.
Host Hotels: The Graduate, 301 W. Franklin St., Richmond, VA 23220. Discounted rate $147 per night.

Linden Row Inn, 100 E. Franklin St., Richmond, VA 23220, Discounted rate $109 per night.

Schedule
Friday, Nov 8
James Branch Cabell Library, Lecture Hall (Room 303), 901 Park Ave., Richmond, VA 23284
11 a.m.-noon Campus scavenger hunt
Noon-1 p.m. Lunch
1-2:30 p.m.

Keynote: "Haha to Aha," James Wasilewski

2:30-4:30 p.m. Focused discussions

Doing More with Less, Skye Mullarkey (M.S.

'

09/H&S), Atlanta Chapter
The Power of Engaging Your Alumni Network, Pooja Nanjannavar (B.S.

'

18/En; B.S.

'

18/H&S), Houston Chapter
C.O.C. Culture Model, Keisha Sowers (B.A.

'

99/A), VCU Alumni Board of Governors
Volunteer 101, Ellen Motley (B.S.

'86/MC),

DMV Chapter
Lessons Learned of a First-Year Chapter Leader, Ike Smith (B.A.

'10/GPA),

DMV Chapter
Social Media Best Practice, Altimese Curry (B.S.

'07/H&S),

Lowcountry Chapter

5 p.m. Hoops and Scoops Homecoming pregame

|

Institute for Contemporary Art
7 p.m. Men

'

s basketball vs. North Texas | Siegel Center
Saturday, Nov. 9
HR Training Facility, 930 W. Grace St., Richmond, VA 23284
8-9 a.m. Breakfast
9-10:15 a.m.

Keynote address –

Making Creative Connections, Mim Golub

(M.S.

'

85/HP)
10:15-10:30 a.m. Break
10:30-11:30 a.m.

Crucial Conversations "Get Unstuck"

11:30 a.m.-noon

Creative exercise – "Building Bridges, Not Walls"

Noon-1 p.m. Lunch
1-1:50 p.m.

Keynote address – Knowing the Body You Occupy: Combating Your Biases, Calvin Hall

(B.A.

'

15/H&S; B.S.

'

15/H&S; M.S.

'

18/H&S)
1:50-2 p.m. Break
2-2:50 p.m. "Snapshot of Today's Students," Sybil Halloran, Ph.D. (M.U.R.P.'99/GPA; Ph.D.'15/GPA), senior associate vice provost for strategic enrollment management at VCU
3-3:45 p.m

Crucial Conversations – "Start with Heart"

3:45 p.m.

Summit Wrapup

Post-summit Choose your own adventure
Enjoy one of the many activities taking place on Saturday evening as part of Homecoming weekend.


Speakers:
Mim Golub (M.S.'85/HP), Another Limited Rebellion
Mim began her career teaching second graders in New York City after studying at the NYU School of Education. She has created programs for the Osher Lifelong Learning Institute and the Partners in the Arts School of Professional and Continuing Education at the University of Richmond.
She taught art foundation at VCU for 18 years and is a staff educator at the Virginia Museum of Fine Arts, Studio School. Her art has been featured in the Whitney Museum Art-O-Mat and throughout the U.S. She has exhibited work in Korea, Venezuela, Poland, France and more.
She has a B.F.A. in painting and printmaking from the University of Illinois, Champaign-Urbana and an M.S. in counseling from VCU.
Calvin Hall (B.A.'15/H&S; B.S.'15/H&S; M.S.'18/H&S)
Calvin Hall is a fourth-year graduate student in health psychology at Virginia Commonwealth University and a passionate social activist. As a scholar, Hall examines the effects of social biases on decision-making processes and their effects on health with a focus on queer, trans, and gender nonconforming individuals of color.
Hall has worked for eight years with survivors and advocates of sexual and intimate partners on a local, state and national level. He currently serves as a faculty trainer with the Virginia Sexual and Domestic Violence Action Alliance; a passionate member of the Richmond chapter of Southerners on New Ground, a multi-racial queer liberation nonprofit, and a board member at the Virginia Anti-Violence Project.
Hall received a B.S. in Psychology, a B.A. in Philosophy, and an M.S. in Psychology from VCU and is pursuing his doctorate in psychology, also at VCU.
James Wasilewski
James Wasilewski has delivered keynote sessions and facilitated workshops – supported by 20 years of improvisational comedy – through "HaHa to Aha: Where Laughter Leads to Discovery." Through these sessions, he applies improvisational concepts and exercises to a variety of topics, including idea generation, teamwork, communications and other soft skills. He also leads fundraising sessions with individual nonprofits and during conferences.
Wasilewski has served in various fundraising, constituent engagement and student recruitment roles in higher education for 17 years. He is also a local community advocate and volunteer, currently serving on the Virginia Association of Fundraising Executives board, the Children's Museum Associate Board and the Yes, Balloon board for ComedySportz RVA. In 2015, he was recognized in the Richmond publication Style Weekly's Top 40 Under 40 for his work in fundraising, volunteer service and improv comedy in the community.
Wasilewski is a certified applied improvisation – senior practitioner with ComedySportz. He earned a B.S. degree in accounting with a minor in speech communications from Randolph-Macon College and his M.B.A. from the University of Central Florida.