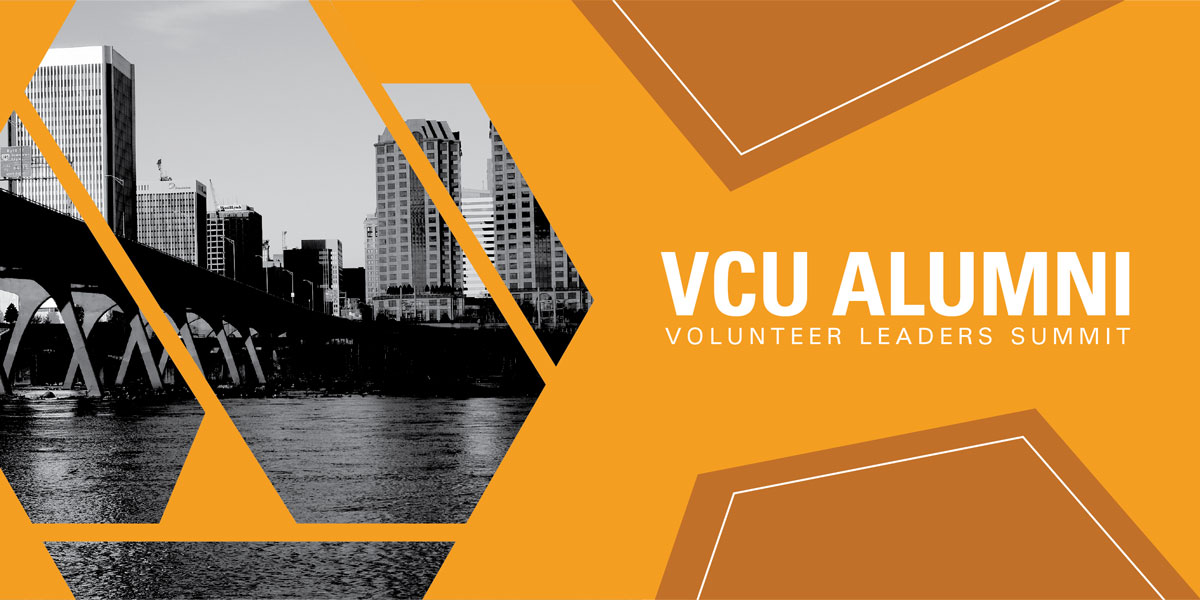 Volunteer Leaders Summit
Our first Volunteer Leaders Summit was a tremendous success. Thank you to everyone who came to VCU in January to connect, learn and share best practices. Be on the lookout for next year's date. If you're interested in getting more involved with VCU, visit VolunteerVCU for the latest opportunities.
2019 Volunteer Leaders Summit
Event schedule
Friday, Jan. 18
3-4:30 p.m.: Campus tours
5 p.m.: Leadership happy hour with VCU Alumni staff (Cannon and Draw Brewing Co., 1529 W. Main St.)
7 p.m.: Explore Richmond, and the great restaurants nearby, on your own or with fellow leaders.
Saturday, Jan. 19
8-8:30 a.m.: Breakfast
8:30-9:15 a.m.: Welcome/ELEVATE strategic plan
9:20-10:05 a.m.: Managing Your Group's Communications
10:10-11 a.m.: Five Aspects of Group Dynamics
11:10 a.m.- noon: Breakout Sessions

We Do More Than Watch Parties: Event Planning Ideas Around Personal and Professional Development
Regional Best Practices

Noon-1 p.m.: Lunch with Leaders
1:05-2: p.m.: Breakout Sessions

Recruiting and Managing Volunteers
Student and Young Alumni Programming

2:05-3 p.m.: Diversity and Inclusion
3:10-4 p.m.: Future of Chapters Town Hall
4-5 p.m.: Pregame Beer Tasting and Pinball at Champion Brewing Co.
5:30-6:30 p.m.: VCU Basketball Pregame Party at the Siegel Center
6:30 p.m.: Men's basketball game - VCU vs. UMass
Breakout sessions
We Do More Than Watch Parties: Event Planning Ideas Around Personal and Professional Development: ANOTHER watch party?! Great … a chance to sit around, watch the game, have a drink and talk about "that one time at VCU." This session focuses on how to enhance and diversify the events you could provide to fellow alumni. Learn how to turn tried-and-true staple events of watch parties into something memorable — something that keeps them coming back for more!
Student and Young Alumni Programming: Learn more about student-alumni engagement opportunities and ways that you, your chapter or group can get involved. Also learn more about programming specifically targeted toward recent graduates and ways that you can work to host similar programs/events for your group.
Regional Best Practices: Take part in an interactive discussion about the evolution and growth of regional alumni programs and best practices when planning programs and activities for Rams in your area.
Recruiting and Managing Volunteers: Learn about the new VolunteerVCU platform and how you can recruit and retain new chapter leaders, committee members and one-off volunteers to help with event management and execution.
Questions/comments?
Contact Parks Smith, director of alumni volunteer programs and professional development, at pasmith4@vcu.edu or (804) 828-2890.
Thank you to our 2019 summit sponsors: