MCV Alumni House and Paul A. Gross Conference Center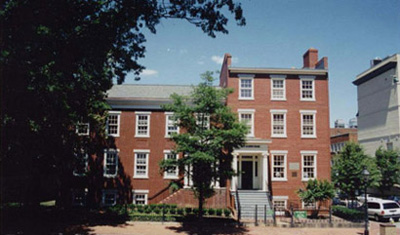 The MCV Alumni House and Paul A. Gross Conference Center are located at the corner of Clay and 11th streets.
The MCV Alumni House is on the Virginia Historic Landmarks Register, and the Paul A. Gross Conference Center is used extensively by MCV Campus departments and MCV Hospitals for seminars, presentations and meetings. The house and conference center are located at 11th and Clay streets.
VCU Alumni staff offices are in the alumni house, which serves as a focal point for alumni and student activity. The alumni house is the "front door" to the university and manifests the role of alumni as important members of the university community. Alumni are always welcome at the house … if you are on campus, stop in and say hello!
History
The Greek Revival house, originally located at 1105 E. Clay St., was built in 1846 by Dr. Socrates Maupin, a founding faculty member of MCV. Maupin subsequently sold the house to Robert H. Maury. During an 1861 visit with his cousin, Robert, Matthew Fontaine Maury conducted the now famed bathtub experiments that led to the development of the underwater torpedo. The MCV Alumni Association purchased the Maupin-Maury House in 1943 and in 1993 renovated and relocated the house to 1016 E. Clay St. The renovation and addition of the Gross Conference Center, completed in 1998, were funded completely through private gifts. Make a gift to support the house.
Rent a room
The facility offers large conference rooms equipped with audio-visual equipment, a formal parlor with fireplaces and plantation shutters, a formal board room, which seats 28, and small meeting rooms on the ground floor. The building features three kitchens, including a caterer's kitchen with a large refrigerator, dishwasher and ovens.
Room rental is available to the public, and VCU Alumni members can rent the facility for private functions such as wedding receptions and meetings at a discounted rate. Call (804) 828-3900 to check availability.