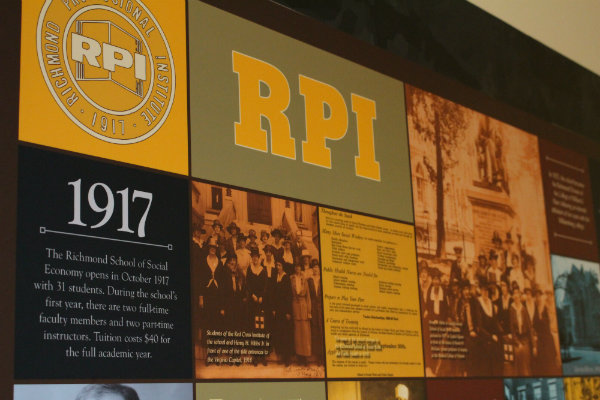 RPI History Wall
The brownstone wall around Ginter House at 901 W. Franklin St. served as the epicenter of student activity at Richmond Professional Institute, a predecessor to Virginia Commonwealth University. In 2017, the 100th anniversary of the founding of RPI, the iconic wall came to life inside the University Student Commons.
VCU Alumni's RPI Alumni Council, composed of RPI alumni from the 1950s and 1960s, spearheaded the RPI History Wall, raising funds for the project and working with VCU Libraries and University Student Commons and Activities to construct the exhibit.
The exhibit includes floor-to-ceiling photo display panels that depict the leaders and professors who taught at RPI and built its infrastructure, the students who built their futures on the cobblestone campus and the activities that built the foundation for the VCU of today and tomorrow. Running along the bottom of the exhibit is a representation of the brownstone wall where RPI students gathered.
A parallel wall contains a timeline that shows, in photos and commentary, significant milestones in RPI's rich history from its inception in 1917 to its merger in 1968 with the Medical College of Virginia to become VCU. More than 15,000 students, faculty and visitors pass between the two walls every day.
The RPI Alumni Council looks to raise additional funds to expand and enhance the exhibit by incorporating features such as a video display that can provide an interactive experience for visitors. Make a gift to support the wall.
View photos from the April 7, 2017, dedication of the RPI History Wall.
View a video highlighting alumni memories of RPI's cobblestone campus.