VCU Alumni and Community Bike Ride
8 a.m. - 1 p.m. April 29, 2017
Ride, enjoy family fun or do both!
Join the VCU Alumni Riding Rams and VCU Recreational Sports for the 2017 VCU Alumni and Community Bike Ride.

Pre-ride

Meet-and-greet breakfast and bike ride
When: Saturday, April 29 (8 a.m. breakfast, 9:30 a.m. bike ride)
Where: Cary Street Gym, 101 S. Linden St.(please note venue change)
Cost: $5
Register: Online by April 24
VCU Recreational Sports hosts the pre-ride meet-and-greet breakfast and invites alumni to tour its state-of-the-art recreational facility. VCU Alumni members can purchase a Recreational Sports membership at a significant discount and use both the Cary Street Gym and the MCV Campus Recreation Center.
The 29-mile bike route travels through Varina on Osborne Turnpike (Route 5) and returns to campus. You can also take an extended 50-mile route. The routes include a rest stop at Osborne Park and Boat Landing (snacks provided), SAG vehicle and cue sheets. View photos from the 2016 event.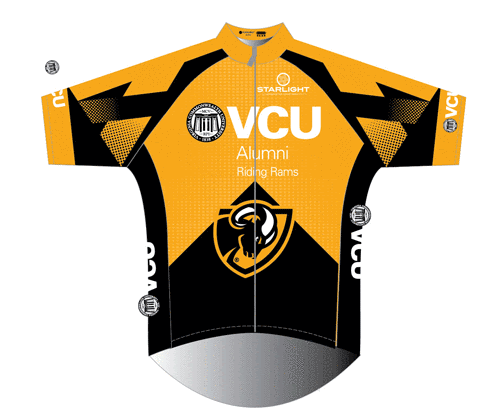 VCU Alumni cycling jerseys and bibs are now available. Place your order today. Orders must be placed by Wednesday April 5 to receive your apparel before the ride.

Post-ride

Family Fun Fest presented by VCU Recreational Sports and VCU Alumni
When: 1-5 p.m. Saturday, April 29
Where: Cary Street Gym, 101 S. Linden St. (please note venue change)
Cost: Complimentary
After the ride join us at the Cary Street Gym for refreshments, pool activities, rock-wall climbing, group exercise, giveaways and more. Activities for all ages! Fun for your whole family! Even if you're not a cyclist, we encourage you to come out!
Questions? Contact Larry Powell (B.S.'85/H&S), assistant director, outreach and engagement, at (804) 828-8194 or wlpowell@vcu.edu. In case of inclement weather, updates will be posted on the VCU Alumni Facebook page, the Riding Rams Facebook page and the VCU Alumni calendar.
Location
Richmond, VA
Contact
Larry Powell
wlpowell@vcu.edu
(804) 828-8194