VCU Alumni and Community Bike Ride
8 a.m. - 1 p.m. April 29, 2017
Join the VCU Alumni Riding Rams for the 2017 VCU Alumni and Community Bike Ride.
When: Saturday, April 29 (8 a.m. breakfast, 9 a.m. bike ride)
Where: Meet at the University Student Commons, 907 Floyd Ave.
Cost: $5
Register: Online by April 24
The 29-mile bike route travels through Varina on Osborne Turnpike (Route 5) and returns to campus. You can also take an extended 50-mile route. The routes include a rest stop at Osborne Park and Boat Landing (snacks provided), SAG vehicle and cue sheets. View photos from the 2016 event.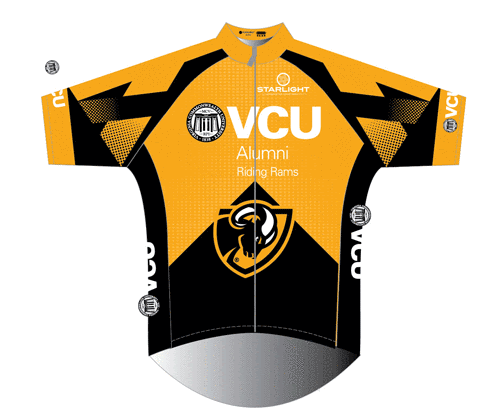 VCU Alumni cycling jerseys and bibs are now available. Place your order today. Orders must be placed by Wednesday April 5 to receive your apparel before the ride.
Questions? Contact Larry Powell (B.S.'85/H&S), assistant director, outreach and engagement, at (804) 828-8194 or wlpowell@vcu.edu. In case of inclement weather, updates will be posted on the VCU Alumni Facebook page, the Riding Rams Facebook page and the VCU Alumni calendar.
Location
Richmond, Virginia
Contact
Larry Powell
wlpowell@vcu.edu
(804) 828-8194